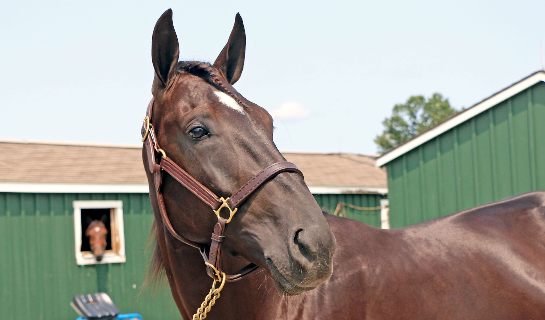 Nuncio
Won 42 races and Earned $3,645,363
Records of 2,1:53f, 3,1:50.4 in the U.S. and mile rate time of 1:50.3f in Sweden
Andover Hall - Nicole Isabelle by Lindy Lane
2022 Stud Fee: $7,500 **Frozen semen only, foals not PA eligible**
Foals By Earnings - As of 5/10/2022

Frozen semen will be available through Select Breeders.
PDF Contract

For further information contact us at 717-637-8931 or hanover@hanoverpa.com

Nuncio was first or second in 26 of 27 starts at 2 and 3. His stateside wins included the Kentucky Futurity, Yonkers Trot, Bluegrass and Matron Stakes. He finished second in the $1 million Hambletonian, Stanley Dancer Memorial and 2-year-old Breeders Crown, and was third in the Breeders Crown final at 3. His European tour was highlighted by an undefeated, 11-for-11 season as a 5-year-old, with wins in the 2016 Elitlopp, Oslo Grand Prix, Swedish Breeders Crown, UET Trotting Masters final, and many other major, open stakes.

Limited first crop of North American two-year-old's raced in 2021 and include these winners:
• Letsdoit S 1:54.4M $140,993
• Theresnolimit S 1:56.3F $41,770
• Aggiornamento 1:54.3M $27,550
• Joygo Q2:00.0F $115,153
• Following S 1:59.2F $10,800
Nuncio has several talented performers in his first crop at 2 in Europe.
In Italy in 2021, from 13 registered foals, he has sired the year's top 2-year-old trotter, Denzel Treb 2, 1:58.4f $196,453. Winner of all 7 starts including the 2 richest races on the Italian calendar, the $200,000 Gran Premio Allevamento and the $175,000 Gran Premio Anact.
His best filly in his first crop is Dynamite Bar 2, 2:00.1f $13,610. Started racing in late November but a winner of all her 4 starts.