THE HISTORY OF HANOVER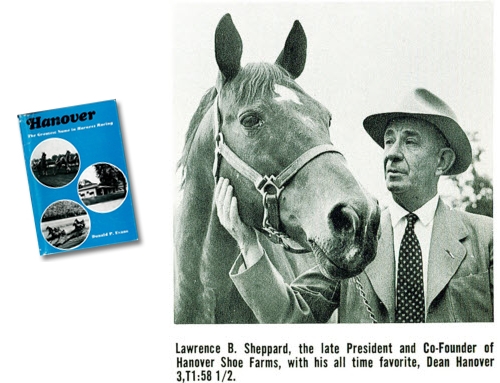 In 2001, Hanover Shoe Farms-bred colts and fillies set the all-time earnings record regardless of breed with a total of $21,372,418. Hanover Shoe Farms continues to lead money earnings of North American breeders with $19,620,934 in 2006 and has topped the list already in 2007 with over 2.7 million as of 3-22-07.
Since the USTA began compiling breeder's statistics, Hanover Shoe Farms has led the annual money-earnings totals every year. The famous Pennsylvania nursery has been a world class breeding establishment for nearly three-quarters of a century. Hanover sires have also produced a multitude of winners of harness racing's most prestigious events such as the Hambletonian, Kentucky Futurity, Little Brown Jug and Breeders Crown.
In the early 1900's Lawrence B. Sheppard, then in his twenties and a junior partner in the Hanover Shoe Company, supplied the drive and vision to transform the Hanover Shoe Stables into Hanover Shoe Farms. This transformation began in 1922 when Sheppard began replacing the modest, mediocre stock with some of the finest racehorse of the era, with Baron Worthy and Peter Manning among them. But it was in 1926, when Lawrence Sheppard boldly bought a 69-horse package from the estate of A.B. Coxe, that Hanover truly burst upon the national scene.
For the next 42 years, young Sheppard was determined to keep Hanover as "The greatest name in harness racing." He got no argument from the woman he married, a San Antonio belle named Charlotte Cassin Newton, who shared his great love of horses. And his constant quest for excellence caused him to select John F. Simpson, a successful young horseman, as his ultimate successor at the helm of Hanover Shoe Farms. The history of any breeding farm is a chronicle of its stallions. Hanover has historically been home to many of the sport's most prolific sires. From the early years of harness racing's first Hambletonian winner Guy McKinney and the world champions Dean Hanover and Billy Direct; to the post World War II era of Star's Pride, Adios and Tar Heel; to the late 70s, 80s and early 90s with Super Bowl and Albatross.
With Tar Heel and Star's Pride under the Hanover roof, Sheppard possessed awesome breeding power at both gaits, but he still wasn't satisfied. John Simpson had convinced him that Hanover needed Adios, Delvin Miller's dazzling, young Hal Dale son, and he set out to land him. The price was steep-the steepest ever at $500,000-but Sheppard raised those funds by selling one-third interests back to Miller and to fellow Pennsylvania breeder, Max Hempt.
In 1972, Simpson and Hanover added another pair of sparkling prospects which turned out to be "the franchise" for two decades-trotter Super Bowl and pacer Albatross.
Keeping Hanover Shoe Farms above all rivals has meant considerably more than merely adding a stallion or two every couple of years. Broodmares were crucial to the breeding game as well, and no one knew that better than Simpson. Lawrence Sheppard was always game enough to pay princely sums for promising sires, but never grew accustomed to meeting the steadily rising prices affixed to well-bred mares. He paid the big price when he had to, but he growled about it every time.
John Simpson never strayed from his avowed goal of maintaining the Hanover broodmare flock as the best in the world, whatever the cost. "No breeding farm is going to reach the top, or remain on top, unless it consistently strives to improve its band of mares," said Simpson. It has cost Hanover millions of dollars to continue its edge in the broodmare derby, but it's been well worth the price. In recent years this has never been more apparent- Hanover Shoe Farms has reinvested $16,650,500 in the purchase of young, championship-caliber broodmares over the last ten years.
Among the quality mares purchased over the last few years are trotters- Her Culese t,3,1:53.3m $354,658 (2005 Kentucky Filly Futurity and World Trotting Derby winner) and Bramasole t,4,1:53.1 $347,753 (2004 Buckette and Review Stake winner) both booked to Andover Hall in 2007. Pacing mares Northern Sky p,4,1:51.2s $747,654 and Artaffection p,4,1:51.1 $793,372 were purchased in 2005 and are being bred to Western Ideal and son Rocknroll Hanover respectively in 2007. Winner of the 1998 Jugette, Matron, NJSS 3YOFP Championship and numerous 3YO Filly Stakes, Armbro Romance p,3,1:49.4m $794,375 was added to the broodmare ranks in 2003 and is already proving herself a worthy investment with two sub 1:50 performers! She is in foal with the first crop by "Horse of the Year" Rocknroll Hanover.
In 2006 Hanover Shoe Farms purchased 2001's 3YOFP Breeders Crown and NYSS Champion "Horse of the Year" Bunny Lake p,2,1:54; 3,1:51; 4,1:49.4; 6,1:49 $2,843,476 for $400,000 at Harrisburg. The outstanding race mare is in foal to 2005's 3YOCP Breeders Crown Champion and "Horse of the Year" Rocknroll Hanover and booked to Western Hanover for 2007.
In 2006 two of Hanover Shoe Farms broodmares were nominated by The U.S. Harness Writer's Association for consideration as Broodmare of the Year. Among the three finalists chosen for each gait were for pacing broodmare- Jasmine Hanover (dam of Artstanding p,3,1:52.2h $601,462 and 2YOFP Breeders Crown elimination winner Little Miss Dragon p,2,1:52.2f $383,375) and for trotting broodmare- D Train (dam of two 2006 Breeders Crown contenders Here Comes Herbie t,3,1:52m $365,541 and 2YOCT Champion & Dan Patch Award recipient Donato Hanover t,2,1:55m $662,587).
Among Hanover's elite group of broodmares are six pacing mares that have produced multiple 1:50 performers including Rich N Elegant who boasts three to her credit- Rocknroll Hanover p,1:48.3, Red River Hanover p,1:48.4 and Royalflush Hanover p,1:49.3. With two 1:50 performers each are: Armbro Romance- The One Night Pan p,1:49.1 & Armbro Damien p,1:50; Cathedra- Western Shooter p,1:50 & The Preacher Pan p,1:50; Incredible Margie- Allamerican Inca p,1:48.2 & LCB p,1:50; Ohyouprettything- Jereme's Jet p,1:48.1 & Ohubetterbelieveit p,1:48.4; and Sandlark Hanover- Scoreboard Hanover p,1:49.2 & Always Cam p,1:49.2.
Also in Hanover's established broodmare ranks is the pacing broodmare Hattie who is the dam of the fastest race performer ever- Holborn Hanover (by Cam's Card Shark) p,5,1:46.4m $1,926,109! Her top progeny include Hyperion Hanover p,4,1:50.4s $200,876, Hatsoff Hanover p,4,1:54f $361,412, Meltdown Hanover p,5,1:52.1s $190,972 and Dreamland's Jo Jo p,1:53.1s $192,486.
The Hanover tradition was set a long time ago with strong leaders like John F. Simpson and Paul Spears. The new and talented young leadership of Jim Simpson (son of John F. Simpson) and Russell Williams (grandson of Lawrence Sheppard) continues to steer Hanover Shoe Farms into the next century.
In 2001 Hanover's veteran pacing stallions, No Nukes and Big Towner, ranked first and second on the all-time earnings list among active pacing sires with career progeny earnings over $109 million and $105 million respectively. No Nukes was also North America's leading broodmare sire in 2000 with all age earners of over $20 million and 2 & 3 year old earners of nearly $12 million. Big Towner took top honors as the sport's leading living sire of $100,000 plus winners with 300 in that category.
Hanover's current pacing stallion roster includes Western Hanover, The Panderosa, Western Ideal, Cam's Card Shark, Dragon Again, No Pan Intended and Allamerican Native.
Western Hanover progeny have earned $107,725,871 as of 12-31-06 ranking him 7th among all time money winning sires and making him part of a classic group of stallions including Albatross-2nd with $147,821,721; his sire- No Nukes- 3rd with $128,541,231; and Big Towner- 4th with $116,724,660. Western Hanover is now the Leading Living Sire of all time progeny earnings. A Sire of 307 $100,000 winners & 10 millionaires with 33 in 1:50 and 505 in 1:55, he ranks as the supreme patriarch in the stallion barn.
In 2006, Western Hanover and sons The Panderosa and Western Ideal were a dominant force among Leading Money Winning Pacing Sires ranking in the top 5 for three year old earnings. Western Hanover was second among All Age Pacers by 2006 earnings with $12,894,450 and second in Leading Pacing Sires of two year olds by average earnings (Western Ideal was ranked 4th in the same category). Western Ideal and The Panderosa were ranked 2nd and 3rd respectively among three year old pacing sires by average earnings.
Both Western Hanover and Western Ideal produced two year old Breeders Crown Champions in 2006 -2YOCP Charley Barley p,2,1:53.3s $370,775 and 2YOFP Calgary Hanover p,2,1:53.2s $372,635.
The Panderosa, himself a world champion, has sired 2005 Little Brown Jug Winner P-Forty-Seven p,3,1:48.2m $707,660 and World Record holders Ponder p,5,1:48.1m $1,522,936 (All Age Pacing Record for ½ mile track 1:49) and Mypanmar p,5,1:48.3s $633,974 (Four Year Old Record on greater than one mile track 1:48.4). Sophomore son True North Hanover p,3,1:50.4f $378,742 was the winner of 10 races in 2006 including $100,000 PA Final, $178,000 Cleveland Classic, Adios elimination (4th in final), Jug Preview, PASS, Keystone Classic & Max Hempt elimination (2nd in final); 3rd in Reynolds & Little Brown Jug elimination heat.
Sire of the World's Fastest Race Performer, Holborn Hanover p,1:46.4m $1,926,109 and 3YOCP Breeders Crown Winner Shark Gesture p,3,1:49.1m $753,291, Cam's Card Shark ranked among the year's leading pacing sires again in 2006 and is already topping the 2007 charts with the fastest (Devilfish p,1:48.3) and richest (Load The Dice p,1:49.3 $182,900) all age performers thus far. He leads 2007 three year old earnings, with Bouncing Hanover p,3,1:54.2 $49,961 and 5 straight wins, his top sophomore performer, and is second in All Age Earnings as of 3-13-07 with $1,654,803. A Sire of over $70 million in lifetime progeny earnings with 8 millionaires and 3 multi-millionaires, Cam's Card Shark has produced 26 in 1:50 and 318 in 1:55!
Dragon Again has amassed over $12 million in progeny earnings with 3 crops of racing age including two time Breeders Crown Champion My Little Dragon 3,1:50.2m $1,385,210! He was ranked among the top 10 Leading Money Winning Pacing Sires of 2 & 3 year olds in 2006 and has 28 $100,000 winners to his credit. His 2006 freshman class included Breeders Crown elimination winners Little Miss Dragon p,2,1:52.2f $383,375 and Sutter Hanover p,2,1:50.4s $326,705.
2003 "Horse of the Year" & Triple Crown Winner No Pan Intended p,3,1:50.3m $1,581,735 and 2002's richest and fastest freshman pacer Allamerican Native p,2,1:51.1-1:53f; 3,p,1:49.4-1:53.2h $1,296,304 sent their first crops to the sales rings in 2006 and were well received.
Hanover's trotting stallions include Donerail, SJ's Caviar, Cantab Hall and 2006's first crop sire sensation Andover Hall.
Andover Hall rocked the 2006 trotting scene topping two year old earnings with $3,036,966! Sire of 2 in 1:55; 19 in 2:00 and 39 in 2:05 with 6 $100,000 winners from his first crop of racing age in 2006 including freshman stand outs Donato Hanover t,2,1:55m $662,587 (Dan Patch two year old colt Trotter of the Year & Breeders Crown Champion) and Pampered Princess t,1:54.4m $626,244 (O'Brien & Dan Patch two year old filly Trotter of the Year).
Andover Hall once again lead yearling sale prices as his second crop hit the sales ring. In Lexington Give Me A V sold for $270,000 (30 head sold for an average price of $91,900) and at Harrisburg Mary Ana Hanover topped the yearling sale for $375,000 (47 sold for an average price of $76,596 with 4 bringing over $200,000)!
World Champion SJ's Caviar 2,1:58f, 3,1:53.4 ($1,288,466), winner of 10 straight stakes races and 2001's richest trotter with $1,198,490 in seasonal earnings, has proven progeny production from his first two crops racing. He is the sire of 5 in 1:55; 52 in 2:00 and 9 $100,000 winners. 2006 PASS Champions Mythical Lindy t,2,1:57.1f $298,263 and Hidden Viggorish t,3,1:53.1f $246,403 (World Record Champion trotter for 3 Year Olds and All Age over 5/8 mile track) were among his 2006 leading performers.
Veteran trotting stallion Donerail has sired 69 $100,000 winners with 9 $500,000+ earners and well over $28 million in lifetime progeny earnings. His multiple stakes winners include straight-heats Kentucky Futurity winner Chasing Tail 3,1:53 ($724,767) and Kentucky Filly Futurity and World Trotting Derby Filly division winner Victory My Way 3,1:54.3 ($498,746). Quickly becoming a sought after broodmare sire, Donerail's daughters have produced champions the likes of Donato Hanover, Pampered Princess, Make You Mine, Was it A Dream and Quick Credit!
2003 Two Year Old Breeders Crown Champion & "Trotter of The Year" Cantab Hall t,3,1:54m $1,442,303 sends his greatly anticipated first crop of yearlings to the sales this fall.
Looking to the future Hanover Shoe Farms has reached an agreement to syndicate Andover Hall's son Donato Hanover. A winner of 8 starts including the $456,000 Peter Haughton Memorial in a stakes record of 1:55 (making him 2006's National Season's Leader for 2 year old colt trotters), the $55,675 Harriman Cup, the $82,800 Bluegrass Stake (by 6 lengths over a sloppy track), the $79,500 International Stallion Stake, the 2006 Breeders Crown (2YOCT) elimination in 1:56.2 and $600,000 Breeders Crown (2YOCT) Final (in a stakes record of 1:56 by 4 lengths) will head to the breeding shed after racing his three year old season in 2007.
Hanover was built on love and dedication-Lawrence Sheppard's everlasting love of the Standardbred horse and his unwavering dedication to the art of improving the breed. As things have changed throughout the years, these things have remained foremost at Hanover Shoe Farms.